New Zealand's North & South Islands
November 3-19, 2022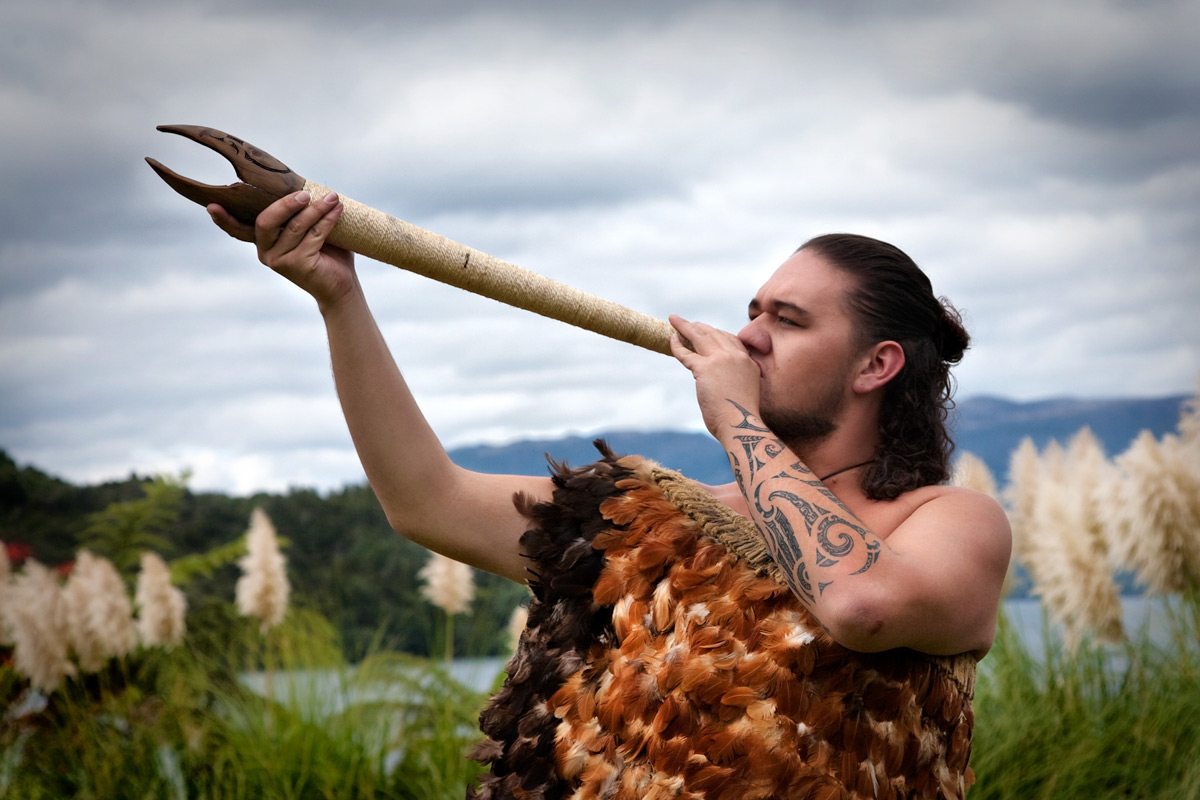 THUR, Nov 3 * Arrive in Auckland, Free Afternoon, Tour Orientation & Dinner • Meals: D
You will be welcomed to New Zealand at the airport and transferred to the hotel. Take the afternoon to rest, relax at the hotel or take a walk in Auckland on your own. You will be staying at a centrally located hotel close to the downtown area and waterfront. That evening, meet for a Tour Orientation to learn more details about the trip and meet your fellow travelers. Afterward, enjoy dinner at a select Auckland restaurant.
FRI, Nov 4 * Auckland: America's Cup Sailing, Auckland City Tour, Sky Tower, Dinner at The Sugar Club • Meals: B, D
In the later morning, set sail on an America's Cup yacht in the Hauraki Gulf and enjoy the spectacular scenery of Auckland's coastline. In the afternoon, the guide will lead the group on a city tour which will include a visit to one of the inner city beaches – Mission Bay. Visit Mt. Eden, a wonderful viewpoint and one of Auckland's most famous volcanic craters. One of his favorite spots boasts great views of Rangitoto Island and the Coromandel Peninsula. In the evening, walk to Sky Tower and enjoy dinner at The Sugar Club Restaurant on the 53rd floor featuring panoramic views of Auckland's skyline and superb cuisine.
SAT, Nov 5 * Waiheke Island Food & Wine Tour, Lunch at Mudbrick Vineyards • Meals: B, L
This morning, ferry out to Waiheke Island. Indulge in the succulent tastes at three Waiheke Island wineries. Taste wine accompanied by locally produced food specialties. Take in the views back to Auckland from Waiheke Island and enjoy lunch at Mudbrick Vineyards. Return to Auckland in the late afternoon. The evening will be at leisure.
SUN, Nov 6 * Auckland to Whitianga: The Coromandel Peninsula, Driving Creek Railway & Kauri Tree Forest, Walk Along Buffalo Beach • Meals: B, L
South we go headed for the Coromandel – a peninsula made up of spectacular beaches. The drive will follow the coastal route to the town of Coromandel. Take a trip on The Driving Creek Railway – New Zealand's only narrow-gauge bush and mountain railway with its own wildlife sanctuary and working pottery studio. En route to Whitianga, stop at the stunning Waiau Falls and Waiau Karui Grove to see the huge ancient kauri trees up close. Once in Whitianga, the early evening will be to relax on your own at Buffalo Beach, take a walk along the shore and look for seashells.
MON, Nov 7 * Boat Ride to Cathedral Cove with Snorkeling, Picnic Lunch, Hot Water Beach, Free Evening • Meals: B, L
This morning, take a glass-bottom boat ride through a marine reserve to stunning Cathedral Cove – the scenic caves known for their limestone formations. You'll likely see Marblefish, Butterfish and Red Moki. Look for dolphins, seals and little blue penguins that frequent this area. If you would like to snorkel from the boat, you can do so. After the cruise, enjoy a picnic lunch on Hahei Beach. From there, you'll visit famous Hot Water Beach. This is one of the only beaches in the world where thermal water is found underneath the sand. The water in some places can be as hot as 150 degrees. You can dig your own thermal pool in the sand and bathe in its waters. This evening, return to Whitianga where the evening will be at leisure.
TUES, Nov 8 * Whitianga to Rotorua: Hobbiton Tour, Rotorua Mudpools & Geysers, Government Gardens • Meals: B, L
Today, leave the Coromandel Peninsula and head to Rotorua. En route, stop to tour Hobbiton and Shire's Rest where the Lord of the Rings and The Hobbit Trilogies were filmed. From Hobbiton, we'll drive to Rotorua, a hot spot for Māori culture and geothermal activity. First stop will be a visit to Kairau Park, a collection of hot springs and mud pools. We'll view the stunning government gardens near the lakefront. Tonight is at leisure and perhaps a good time to have a relaxing soak at Polynesian Spa (optional: not included in tour).
WED, Nov 9 * Kahukiwi Luxury 4WD Māori Culture Tour, Te Puia Mud Pools, Māori Weaving School & Kiwi House, Māori Hangi Dinner • Meals: B, D This morning, head out for a guided Māori culture tour by 4WD vehicle into the heart and home of the Ngāti Pikiao tribe. Our guide will unravel the true story of the Māori people during this scenic off-the-beaten-path experience. Afterward, walk the Te Puia mud pools and geysers, stop at the Maori Weaving School and the Kiwi House to observe New Zealand's national birds. In the evening, the group will enjoy a traditional Maori dinner (hangi) with a cultural performance.
THUR, Nov 10 * Rotorua to Wellington: Skyline Gondola, Volcanic Hills Wine Tasting, Huka Falls, Lake Taupo, Picnic Lunch, Arrive Wellington • Meals: B, L
Before leaving Rotorua today, you'll take a ride on the Skyline Gondola boasting spectacular views of Lake Rotorua, the steaming geothermal vistas and the city of Rotorua. Enjoy a wine tasting at the award-winning Volcanic Hills Winery at the top of the gondola. Then, en route to Wellington, stop at the mind-blowing Huka Falls and Lake Taupo – New Zealand's largest lake. We'll find a spot for a picnic lunch. The final destination is Wellington. Upon arrival, the evening will be at leisure.
FRI, Nov 11 * Wellington City Tour, Te Papa Museum; Free Time; Dinner at Logan Brown Restaurant • Meals: B, D
Wellington is the capital city of New Zealand and sits near the North Island's southernmost point on the Cook Strait. It was recently named 'the coolest little capital of the world'. It has a pulsing cultural scene, museums, a promenade, sandy beaches, a compact city center and wonderful restaurants. You'll take a city tour in the morning to see the highlights of Wellington. The afternoon will include a tour of the Te Papa Museum – New Zealand's National Museum. It's one of the best interactive museums in the world. This evening, enjoy dinner at Logan Brown Restaurant
SAT, Nov 12 * Wellington to Abel Tasman: Ferry from North to South Island, Martinborough Wine Tour & Lunch, Arrival in Nelson, Free Evening • Meals: B, L
Today, say goodbye to North Island and ferry through Cook Strait and Marlborough Sounds to South Island. The northern coast of South Island is simply breathtaking and you'll take it all in on the ferry ride! Upon arrival in Picton, you'll head south to see the beautiful Marlborough wine region. This region produces much of New Zealand's wines, the majority of which is sauvignon blanc. Enjoy lunch at Rock Ferry Winery and tastings at beautiful Cloudy Bay Vineyards. Afterward, head to the beachfront town of Nelson. The evening will be at leisure to relax, take a walk along the beach and enjoy the tranquility of this pristine coastline.
SUN, Nov 13 * Cruising, Sea Kayaking and Hiking in Abel Tasman National Park, Free Evening • Meals: B, L, D
Today, explore the best of Abel Tasman. Abel Tasman is New Zealand's smallest national park and is famous for its golden beaches, turquoise waters, native bush and spectacular scenery.. Embark on a stunning excursion in the marine reserve. Enjoy a day of cruising, kayaking (1 hour) and hiking. Relax with a swim and lunch on the beach. See playful inhabitants – dolphins, fur seals, penguins and sea birds. Return to Nelson in the later day and enjoy dinner at a select restaurant.
MON, Nov 14 * Abel Tasman to Franz Josef Glacier via Coast Road: Nature Walks (seal colony, Pancake Rocks & blowholes), Hokitika Greenstone Gallery, Ross • Meals: B, D
Today, drive south on Coast Road along the western side of South Island. This drive was voted the most spectacular coastal drive in New Zealand. Stop for short nature walks along the way. Visit Cape Foulwind Seal Colony overlooking the Tasman Sea. Stop at Pancake Rocks and Blowholes to explore the limestone landscape of the rock formations and surge pools. Then, head further south through the majestic rainforest of the west coast. Make a stop in Hokitika to visit the greenstone/pounamu (NZ jade) gallery where you can view locals carve necklaces and sculptures from this precious stone. Journey on and stop in Ross, an old gold mining village. Our destination is Franz Josef Glacier. It is one of only three places in the world where one can view a glacier with a side-by-side rainforest. The evening will be at leisure.
TUES, Nov 15 * Franz Josef to Lake Wanaka: Haast Pass, Lake Matheson, Views of Mt. Cook, Nature Walks, Dinner at Kika Restaurant • Meals: B, D
This morning, you'll have an opportunity to enjoy a scenic helicopter ride and a snow landing on Franz Josef Glacier (optional: additional cost) or a hike up the valley to the glacier itself. Afterward, drive over Haast Pass to Wanaka showcasing some of the most dramatic scenery in New Zealand. En route, visit Lake Matheson, known as Mirror Lake. On a clear day, it's possible to see the reflection of New Zealand's highest mountain, Mt. Cook (elevation 12,316'). You'll take a guided hike around Haast Pass where you can see waterfalls and trout in the deep blue-colored pools. The guide will take you to his favorite spots along the drive which passes the coastline, mountain terrain and lakefront. Stay on the shores of Lake Wanaka, one of New Zealand's most popular holiday spots. In the evening, dine at a best-loved restaurant in Wanaka – Kika.
WED, Nov 16 * Lake Wanaka to Te Anau: Explore Lake Wanaka, Crown Range, Arrowtown, Amisfield Winery Lunch, Glow Worm Caves • Meals: B, L
This morning, you'll have time to walk up to a favorite lookout spot with views of Lake Wanaka, Aspiring National Park and the Clutha River. Then, the tour south goes to Arrowtown over the Crown Range – New Zealand's highest highway. Arrowtown was one of New Zealand's most important towns during the gold rush of Central Otago in the 1860's. Browse the preserved Chinese gold mining village or wander the boutiques in town. From Arrowtown, drive to Amisfield Winery where you'll enjoy a 3-course lunch. In the later afternoon, arrive in Te Anau – the gateway to Fiordlands National Park. This evening, you'll take a boat ride across Lake Te Anau to view the shimmering lights of thousands of luminous glow worms in a 12,000-year-old grotto.
THUR, Nov 17 * Fiordland National Park/Milford Sound Cruise, Nature Walks, Arrive Nelson • Meals: B, L, D
Be prepared for one of the jewels of the New Zealand landscape! The drive from Te Anau to Milford Sound is one of the most spectacular in the world. En route, you will see spectacular valleys, breathtaking mountains and fiords. Take a boat cruise in the fiords to witness the pristine waterfalls and towering mountains that plunge into the Tasman Sea. Keep an eye out for dolphins, seals and the Fiordland crested penguin. Then drive to Queenstown. Skirting the way around Lake Wakatipu makes for stunning photography of the Remarkables Mountain Range, one of the backdrops in the Lord of the Rings. There will be opportunities for short nature walks along the way. Arrive in Queenstown and enjoy dinner at a restaurant close to the hotel.
FRI, Nov 18 * Te Anau to Queenstown: Arrive Queenstown, Free Afternoon & Farewell Dinner • Meals: B, D
Today, get to know a bit of Queenstown. Take a walk in Queenstown Gardens on the shores of Lake Wakatipu. Then, ride up the Skyline Gondola boasting panoramic views of the lake, the Remarkables Range and the city of Queenstown. Tonight, share in a Farewell Dinner at the well-loved Flame Bar & Grill in Queenstown.
SAT, Nov 19 * Departure from Queenstown • Meals: B
Today, you will be transferred to the Queenstown airport for your flight home. We trust New Zealand will be a country you have fallen in love with!
---
IMPORTANT LINKS: New Zealand's North & South Islands